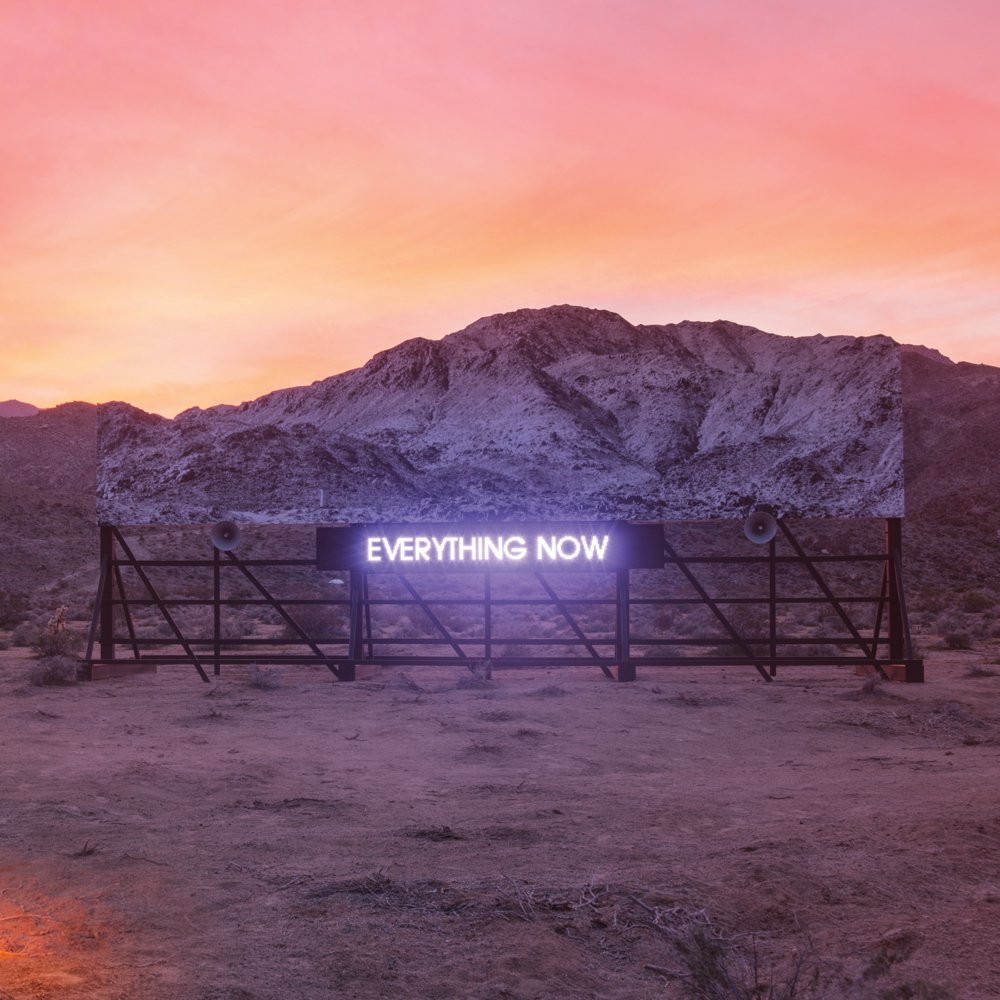 While there has been a lot of diversity in style and approach, every Arcade Fire album has, to a significant degree, been about one thing: disorientation and alienation in the modern world. They had put out four incredible albums around this theme, and then a few weeks ago they released their fifth. And I love it.
Though Pitchfork gave a weird, negative review, Everything Now holds its own amidst Arcade Fire's impressive catalog. It's not their best album, but it doesn't need to top its predecessors to be an excellent album in its own right. (Feel free to skip the rest of this paragraph, but I want to address the Pitchfork article. The aspects of the album with which the reviewer takes issue are seriously bizarre: He's mad that Win Butler is monotone on a song or two (why is expansive range a requirement for every song?), he mocks the use of synths throughout (I think it's cool, it's a nice development from earlier offerings, and it fits the overall project, which I'll unpack in a minute), and he unilaterally decides that it's in bad taste for Butler to list the days of the week in a song  (I dig the way it sounds and works with the song). I'll just take the liberty of upgrading Pitchfork's 5.6 rating to an 8.0. Boom.)
In some ways, Everything Now's message is a bit on the nose: we demand everything, and we demand it now. Our Amazon-addicted society is alienating us from each other, and destroying our souls in the process. But in typical Arcade Fire fashion, the album goes beyond the lyrics. Song after song unpacks the disorientation we feel today, but the music itself is a huge part of the critique and indictment (Pitchfork somehow misses this).
Here's how it works. Lyrically, Win Butler critiques our constant need to fill our ears, eyes, and minds with "infinite content." He concedes that this makes us "infinitely content," but calls out the inevitable result: "all your money's already spent on it." But here's the thing: he's singing this as part of a song that you purchased! And musically, the album itself is conspicuously upbeat and dancy.* The listener finds himself being entertained by infinite** content that simultaneously calls you out for your addiction to infinite content. It's brilliant. And the effect is so much more powerful than a mere spoken statement. The listener is implicated in the critique. We're all guilty as charged, just by virtue of our enjoying the thing that's accusing us.
All of this makes the album fascinating in itself, but there's also this: Arcade Fire has just made—probably unintentionally—a shot for shot remake of the Old Testament book of Ecclesiastes. It's seriously like Ecclesiastes: The Musical.
Watch how this works. The intro and first song ("Everything Now") explore the endless journey of accumulation: music, movies, possessions. Butler sings: "Every room in my house is filled with shit I couldn't live without" and "Every inch of space in my heart is filled with things I'll never start." Now jump back a few thousand years to "the Preacher" of Ecclesiastes: "Whatever my eyes desired I did not keep from them. I kept my heart from no pleasure, for my heart found pleasure in all my toil, and this was my reward for all my toil" (2:10). The Preacher also notes that all of a person's hard work stems "from a man's envy of his neighbor" (4:4—how's that for a critique of capitalism, by the way?). And again, "All the toil of man is for his mouth, yet his appetite is not satisfied" (6:7).
Then we step into "Signs of Life." Butler sings, "Looking for signs of life, looking for signs every night, but there's no signs of life. So we do it again." This is the pursuit of meaning through experience, but it's an unending, unsatisfying expedition. And it's exactly what the Preacher seeks (and finds elusive). In 2:8, he talks specifically about seeking satisfaction through people—singers, concubines (the sexual overtones should not be overlooked). But there's no better summary of this than his opening poem:
"All streams run to the sea,
but the sea is not full;
to the place where the streams flow,
there they flow again.
All things are full of weariness;
a man cannot utter it;
the eye is not satisfied with seeing,
nor the ear filled with hearing.
What has been is what will be,
and what has been done is what will be done,
and there is nothing new under the sun." (1:7–9)
Let's do one more song just for fun. On "Creature Comfort"—the musical highlight and a lyrical gut-punch of a song—Butler sings about boys hating themselves, girls hating their bodies, people begging God to make them famous or to at least keep them from pain. It's a song about meaninglessness, suicide, giving up, and the futility of life. It's tough, and the compelling viby drive of the song adds some tension to the enjoyable music and devastating message. But once again, this is actually the whole point of Ecclesiastes. The Preacher returns to this theme throughout. Here's how he says it in 8:16–17:
"When I applied my heart to know wisdom, and to see the business that is done on earth, how neither day nor night do one's eyes see sleep, then I saw all the work of God, that man cannot find out the work that is done under the sun. However much man may toil in seeking, he will not find it out. Even though a wise man claims to know, he cannot find it out."
The high points in Arcade Fire's search are found in love—not rom-com love, but fought-for, struggled-through love between doubt-filled people. This is also one of the Preacher's realizations in Ecclesiastes. Honestly, there's so much more to be said, but you get the point. I'm not suggesting that Arcade Fire was trying to preach Ecclesiastes in song, but I do think they were on a common journey. The Preacher set his course millennia ago, and human beings have followed in his steps ever since. I personally find Arcade Fire's musically documented journey compelling (and convicting), and maybe you will too.
And real quick, lest there be any doubt, I want to provide the Preacher's conclusion to his journey, lest you come to the end of Arcade Fire's hopeful yet inconclusive final song and want to know the answer:
"The end of the matter; all has been heard. Fear God and keep his commandments, for this is the whole duty of man." (12:13)
__________________________
* Let me be clear: it infuses this stylistic shift with enough fascinating elements to keep it interesting on multiple listens. Classic Arcade Fire on that count.
** The album uses song titles, style, and the intro and outro to make the album into a perfect loop. Put it on repeat and you won't even notice the seams.