I am going to (unwisely) analyze something that will probably make a lot of people upset. Last night, my wife and I watched Jill Duggar's wedding on TLC. It was great. The Duggars are great. Honestly, how can you not love this gigantic family that clearly loves the Lord deeply, loves each other deeply, and constitutes a rare and refreshingly wholesome spot in television programming?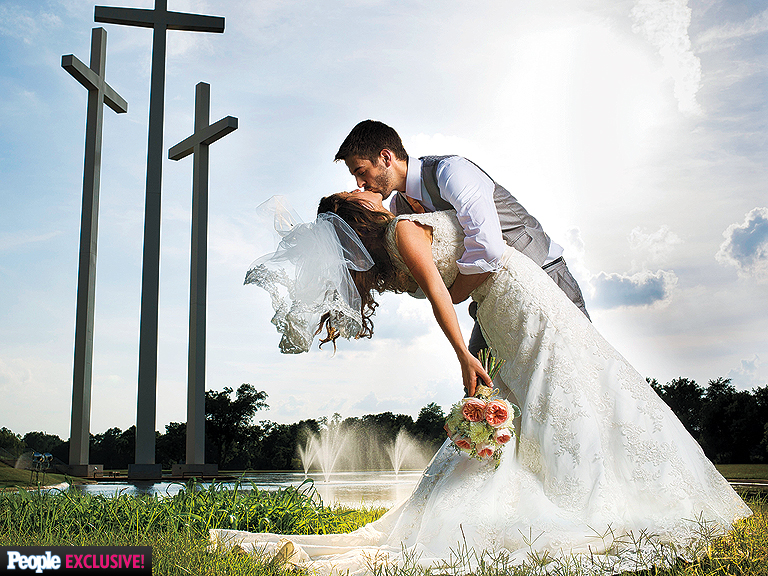 I am pro-Duggar. Hear me say that. But as I watched Jill and Derick's wedding last night, I was struck by the focus of it all. The wedding (episode) was not about marriage, not about Jesus and his bride, not about love. It was (at least as I experienced it) about (1) kissing and (2) having babies. Please feel free to disagree with me entirely, but hear me out.
The Duggars are famous for their no-nonsense approach to courtship. Jim Bob (aka, Daddy and Pops) actually introduced Jill to Derick. Derick was serving as a missionary in Nepal when the relationship began, and since that moment every conversation, every Skype session, and every face-to-face interaction has been chaperoned. Meaning that as the "kids" got to know each other, Jim Bob was there, often sitting between the two.
Hand-holding was strictly forbidden until engagement, at which point it was carefully chaperoned. There was even a moment of controversy during the engagement in which the couple's over-exuberance turned an approved (and chaperoned) side hug into a full-blown real hug. Not to worry, the anxiety died down when it became clear that this was the unintentional result of Jill zigging while Derick zagged. (It would have been hilarious if it wasn't such a serious issue.)
Now some clarifications. I'm intentionally playing up the sternness of it all. The Duggars are a fun group, and they all seem to be thriving in ways that most families don't. Also, I have no intention of sending my daughters (now 3 and 5 years old) out into the world to make out with whomever. That's not happening. I believe in wisdom, patience, principles, and the limitation of physical intimacy prior to marriage.
But in my opinion (which you don't need to share), this ever-watchful-chaperoning approach to dating (courtship) has some potentially negative side effects. One side effect is what it communicates. Do the Duggar parents trust their kids? I'm sure they do. And why wouldn't they? Those kids are angels! If you set a Duggar loose for three days in Willy Wonka's factory with a clear command to eat no candy, you can be sure that no candy will be eaten.
And that's the irony. The Duggars seem to have done an incredible job of raising godly, trustworthy kids. So why treat them like criminals? Sigmund Freud thought that all human interaction boils down to the urge for sex. But the Bible doesn't teach that. And the Duggar's don't believe that. So you don't need to send your kids into vulnerable situations, but you might try letting them have a conversation or two that's not wire-tapped. Maybe even a devotional time on the morning of their wedding that's not chaperoned (that was a real scenario).
As I said, my girls are young, so I do not know what I'm talking about here. But it seems to me that this vigilant chaperoning communicates (probably unintentionally) that these wonderful young people are untrustworthy.
The second side effect I see is that it turned the marriage (episode) into a giggle-fest about kissing and having babies. Now, I know that the Duggars didn't edit the footage for this episode. I'd be willing to bet that everyone in the family said some wonderful things about the true meaning of marriage that the producers simply didn't find compelling. However, the courtship emphasis on lack of physical contact and private conversation made the marriage about the kiss. And, from the moment the "kids" got engaged, the big question was how quickly the couple would begin having kids.
Kissing on your wedding day and having children in your marriage are both great. I'm for those things. But marriage is more than kissing alone. It's more than reproducing. I'm sure the Duggars communicated these truths to their children. But I do think it's unfortunate that the televised version of their wedding came down to unsupervised kissing and the any-minute-now expectation of having kids.
And now let me backtrack. I realize that it's terrible to critique the Duggars, especially when there are so many obviously flawed programs and people on television. The Duggars are indeed a bright spot. But much of what we love them for is their quirks, their well-meaning (and probably well thought out) idiosyncrasies, the things that make them, well, Duggars.
Many of those quirks are wonderful. But perhaps we would all do well to consider that the opposite of sexual immorality is not constant policing. The cure for physical temptation is not Jim Bob's inquisitive look as you accidentally front-hug. Sexual immorality comes from the heart (Mark 7:21–23), not unsupervised finger-contact. The Duggars know that. We should too.